"I want to live where shoes are optional." This use to be (and still is…sort of) my dream/goal.
By the looks of my closet, you wouldn't believe that there was a time when I hated to wear shoes (Shhh! Don't tell my husband!!). I hated for my feet to be confined. Flip flops were my best friend and if the ground wasn't so dirty, I would have walked barefoot. I'm not really sure which shoe or situation tipped me over to to the dark side of of being a Shoe-aholic but this it is one addiction I am OK with having.
Now I have a found a new shoe (and love) that may make me switch back to my "bare feet mentality."
They are my beautiful, oh so sexy………VIBRAMS!!!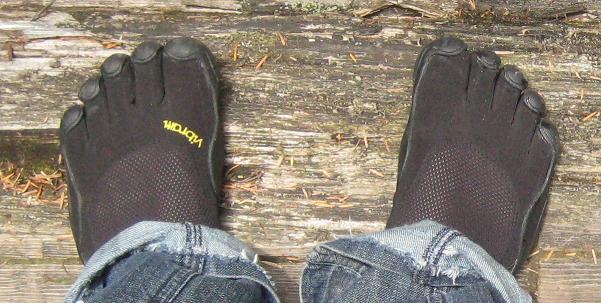 Not my feet but my Veebs look just like these
So maybe they are not beautiful (or sexy…..I guess) but they have become one of my new favorite shoes in my closet.
Before I bought a pair I did some research. I went to their site to check out the different styles they offered. I decided that the KSO style would be best for me. I can wear them while biking, running, walking and yoga-ing (totally made that up!). I went to their Facebook page to see what others had to say about theirs. Some fans have submitted pictures to show their Veebs in action. BTW, I like to call them "Veebie Weebies" and "Veebs." If this aggravates you then…sorry? I looked to see which stores in my area was selling them and called ahead to make sure they were in stock. Trust me, these suckers go FAST. Their newest model, Bikila, are sold out right when they?re put on display!
When it was time for me to make my purchase I headed out like a giddy little schoolgirl! My bubble was almost popped when I got to the store. I asked for the Veebs, the associate measured my ?Vibram size (39)? then he went to the back to get them. Here is the bubble bursting part and forewarning: those bad boys were HARD to get on! It was like trying to stuff toothpaste back into the tube! Seriously! I think I started to sweat (I?m sorry, ?glow.? Women don?t sweat. *raspberry*) trying to get them on. Finally, they were on my feet. I think the Vibram Gods started to feel bad for me and threw me a bone?or something. Then I started to walk in them. It felt like I had nothing on (DUH! ?Bare feet Running?).
So I left the store still as happy as a school girl, headed back to work and wore them for the rest of the day. I even had a little fun with my co-workers and jumped around like Spider-Man. I work in pretty laid-back environment.
Now, for the moment of truth: The first few runs
They SUCKED!
"What was I thinking" and "OW! This hurts" crossed my mind while my ?bareft? hit the pavement and my ankles felt as if they were about to snap. "Mommy! WAAAAAHHH!"
Ok, so maybe I didn't cry for my mommy (Or did I? You'll never know! HA! *raspberry*!!!); but you get the point. If you get Veebs…break those suckers in. Start S L O W L Y! Don't be an overzealous fool like me. It wasn't until I had a tempo run (warm-up, up the speed, faster, slower, faster, cool down) until I felt comfortable running in my Veebs. I definitely dove into the running part too fast (literally! I can do a 5 minute mile. Or can I? Hmmmmm??.).
In conclusion: Virbrams have rocked my running world! My feet like the "less is more" mantra. I am more aware of how I land my feet (midfoot and not heel), my form is better, and my legs are getting stronger. I tried to do a long run in my old sneaks (didn't think the Veebs were broken in enough) and once again cried for mommy.
Just like everything else, Virbrams are not for everyone. If you are thinking about getting a pair, do your research, talk to the associates in the store, try them on, read articles and running forums that discuss the Veebs. Get well informed. Your shoe can make or break (literally) your running life.
I hope everyone enjoys the holiday weekend. Be safe and be healthy! Unfortunately, marathon training doesn't observe holidays so I am scheduled to do one tempo, a long run, cross training (bike for an hour). and a short run!